OSX Development Setup
February 06, 2015
This post will describe my current setup for development on OS X.
Requirements
easy to maintain
easy to recreate
easy to work with during development
friendly to many projects/clients with highly varied software stacks
don't pollute my main OSX install too much
Don't interfere with my core tools: text editor, local filesystem, git, command line terminal
allow offline work
don't make me crazy with too many DHCP IPs, port mappings, virtual networks, etc
Tools
VirtualBox for running other OSes in VMs on top of OS X
Ubuntu as my preferred OS for linux based servers
Docker for containerized apps
Vagrant to script creation of virtualbox VMs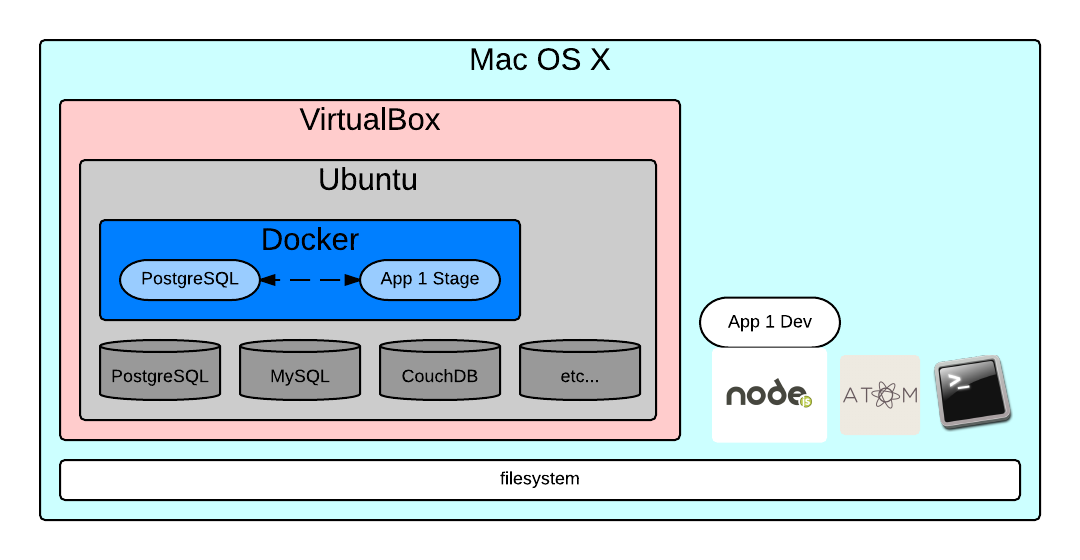 My App Stacks
I generally build web applications that involve a node.js based application server, one or more database servers, and an optional front-end web server (used in stage and production but not in development).
Just go to town with homebrew?
The simplest thing would probably be to install all my tools and databases with homebrew straight into OS X. And I think actually that's probably fine for a lot of people. I don't do it for reasons that are admittedly a bit emotional/OCD.
I feel like getting too much stuff installed in my OS gradually pollutes it, destabilizes it, slows it down, and makes me feel doubt about it
Managing background daemons on OS X is awkward
Since I deploy to linux, I'd like to run and manage my DBs on linux
VirtualBox for DBs
So for the above reasons, I use Vagrant to script a base Ubuntu VM I call "dbs". I give this 2 network interfaces:
Adapter 1 is a NAT setup with a DHCP-assigned IP that gives the VM access to the Internet via my Mac's Internet connection
Adapter 2 is a host-only network with a static IP so I can always access this host
I put the host name "dbs" with the host-only IP in my /etc/hosts file on my mac and I can access it via ssh dbs. I directly install via apt-get install all the DBs I want to use for local development and client work: postgresql, mysql, couchdb, elasticsearch, etc. I run these on the default port for simplicity and try not to do too much configuration. I do have to configure them to bind to the host-only IP address though, which also makes sure they are not reachable from anywhere other than my mac.
That gets me what I need for developing multiple client projects. After a reboot I have a shell alias to start this VM: VBoxManage startvm dbs.
Docker for staging containers
I've started using docker a bit both for client work and one personal side project and so far I'm liking it. To allow me to do docker builds and deploy containers, I run docker inside the "dbs" VM as well.
When I created this setup boot2docker was not quite ready for prime time, but if I had to start over, I might just use boot2docker and run everything as containers. But what I have is every bit as easy to manage for the moment, so I haven't bothered to rebuild it.
So for docker work I just export DOCKER_HOST=tcp://dbs:2375 and use the docker command from homebrew on my mac to do my docker work.
For my dockerized side project, I can run the full stack of docker containers exactly like I do in production all locally on my laptop, which provides an adequate staging environment such that I don't feel a dedicated staging system in the cloud is necessary. I use the same automation scripts to automate docker stuff on my staging VM and for production I just point them at the production host which is a digital ocean droplet. So far it's worked pretty well for me.